Choosing a progressive and user-friendly learning management system is essential for any organisation looking to adopt a learning-centric workplace. 🧑🏻‍🏫
Whether you're a course creator, educator, training manager or simply someone with a thirst for knowledge, our guide will delve into the pros and cons of the most commonly used LMSs and LXPs.🎉
Spoiler alert: there's so much more to explore beyond the Thrive LMS, and we're here to help you make an informed and balanced decision when choosing the most suitable system for your organisation in 2024.
Let's get into it!👇
If you've researched the best learning platforms out there, the chances are you've heard of Thrive.
What is Thrive?
Thrive is a cloud-based LMS which claims to be learner-led to provide a personalised user experience. The platform aims to integrate learning, skills, and communication to drive upskilling and skills development.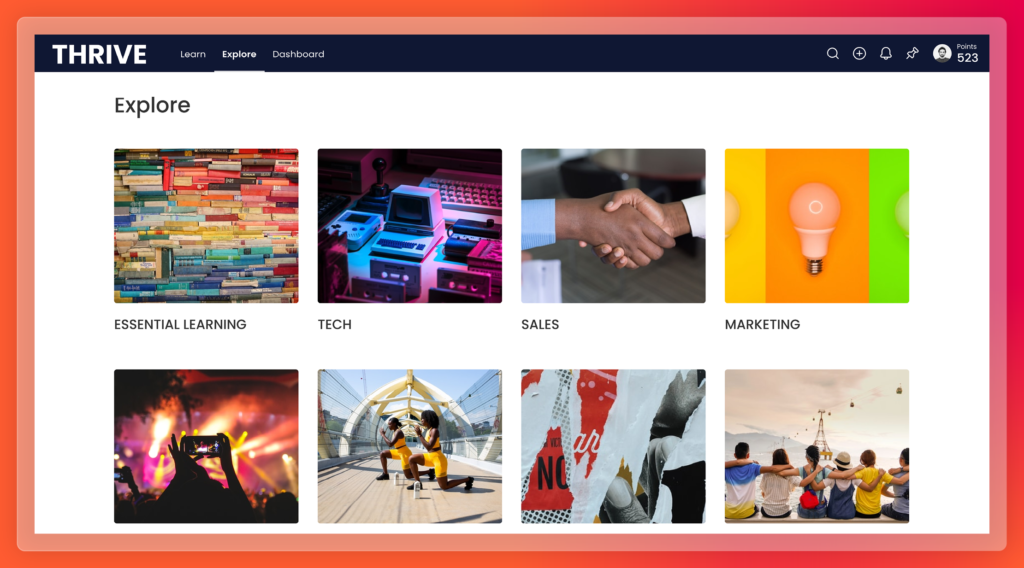 With 79 reviews (at the time of writing), Thrive scores 4.7 out of 5 on Capterra. 💡
Pros of Thrive ✅
According to Capterra, Thrive customers rank it highly for customer service and ease of use, with one user saying: "The customer service with Thrive is excellent; issues are normally resolved within a day, and they are always happy to set up a call".
Another noted: "Using Thrive is actually an enjoyable experience. Everything is super simple and makes sense, from accessing content and resources, creating learning paths, and sharing information and resources with colleagues!"
Cons of Thrive ❌
Some Thrive customers note that "The quantity and variety of content is limited compared to competitors" and that the translation features could be improved, with one user reporting: "It would be great if there were more language options for global clients" and another stating: "Some language support and auto-translation is missing."
Other criticisms reflect on the: "Confusing and restrictive setup which is sometimes confusing to navigate". Others say, "Some Thrive features are limited in scope and capabilities".
How much is Thrive?💰
Thrive is priced on a 'per user' basis. According to the Thrive website and the examples they share, if you have between 1 and 500 users, it would cost you £25,000; if you had between 501 and 1,000 users, it would cost £32,500.
Source: https://www.capterra.co.uk/software/203407/thrive
The 7 Best Thrive LMS Alternatives
Having looked at some of the strengths and weaknesses of one of the market leaders, Thrive, let's explore some alternative learning management systems.
Including…
Cornerstone
Kallidus Learn
Learning Pool
Fuse Universal
LearnUpon
Docebo
1. What is thirst?
thirst is a learning experience platform fueled by AI that empowers L&D teams to boost their learning culture, talent acquisition, leadership development, and internal mobility.
How does thirst compare with Thrive?
There are many benefits of choosing thirst over Thrive, such as our…
Easy-to-use user interface.✅
And our easy-to-understand per-user, per-month pricing. ✅
We also offer…
Deep data insights and analytics that make reporting a doddle.✅
Let us tell you more…
Starting with our Skills Engine
Unlock your team's potential using data-backed insights and personalised learning paths. 📈
Our platform enables the transformation of every team member into a top performer.
Pinpoint and tackle knowledge and skills gaps with precision on both individual and team levels. 💪🏽
Social Learning Capabilities
With thirst, you can establish a learning community where your employees actively engage, collaborate, and share their distinctive perspectives. 💭
Our features, such as reactions, upvoting, tagging and comments, are the best in the industry – especially for organisations trying to engage their Gen-Z learners. 👍🏼
Learn more about social learning with thirst.
Make data-driven decisions with clear and accurate analytics
thirst provides essential insights into learner engagement, behaviour, and skill development, allowing you to optimise and enhance L&D throughout your organisation. 📊
Uncover trends, patterns, and learner preferences
Identify areas where you can improve learning content and ensure your L&D efforts align with your organisational goals. 🥅
Create customisable dashboards and comprehensive reports, visualise data trends, and present insights connecting the L&D dots to stakeholders. 📈
Unbeatable Pricing
We never hide our pricing and are completely transparent. Our per-user/per-month pricing offers a much greater degree of flexibility for your organisation.
Save money without compromising on quality.
thirst is excellent value at just £6.00 per month per user. 💰
For All Users:
Personalised Content Recommendations
Share, Like and Comment on Content
Get Social – Follow and be followed
Upload any File Type
Personalised Dashboard
Integrated Content Providers
Intuitive Platform
Accessible on any Device
For Organisation Admins:
Upload and Host Internal Docs
Assign Content Mandatory
Training Track Learner Progress
MI and Reporting
Insights and Trends
User Management
Customisable User Interface
2. Cornerstone LMS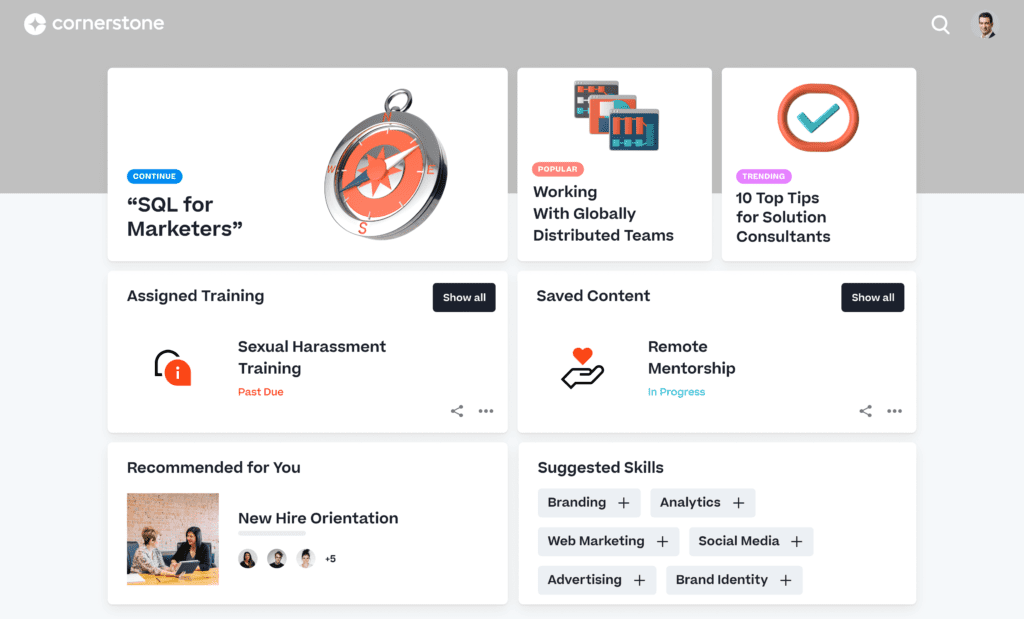 What is Cornerstone LMS?
Cornerstone LMS helps organisations boost workplace productivity by empowering users to learn and collaborate anywhere.
With 217 reviews (at the time of writing), Cornerstone scores 4.3 out of 5 on Capterra. 💡
Pros of Cornerstone  ✅
Many users of Cornerstone praise its ease of use, with one user noting a positive being its "Breadth of Capabilities and a clean and robust user interface."
Another noted: "I especially highlight their personalised approach to learning and the large catalogue of courses and materials available, covering various areas of interest and competencies. I found tracking individual progress and receiving detailed analytics valuable, allowing me to make informed decisions about my team's development."
Cons of Cornerstone ❌
Some users commented on Cornerstone's unhelpful customer service: "The worst customer service I'd ever experience working with a vendor. – They take days to reply to emails. The same goes for technical support tickets, even when they are labelled as a high priority. "
One user felt: "I have noticed that the platform sometimes has performance issues, such as slowness or long page loads, which can affect user productivity and decrease satisfaction with the service."
How much is Cornerstone? 💰
Pricing is only available through contacting Cornerstone directly. However, we can see there is a free trial available.
Source: https://www.capterra.co.uk/software/150446/cornerstone-lms
3. Kallidus Learn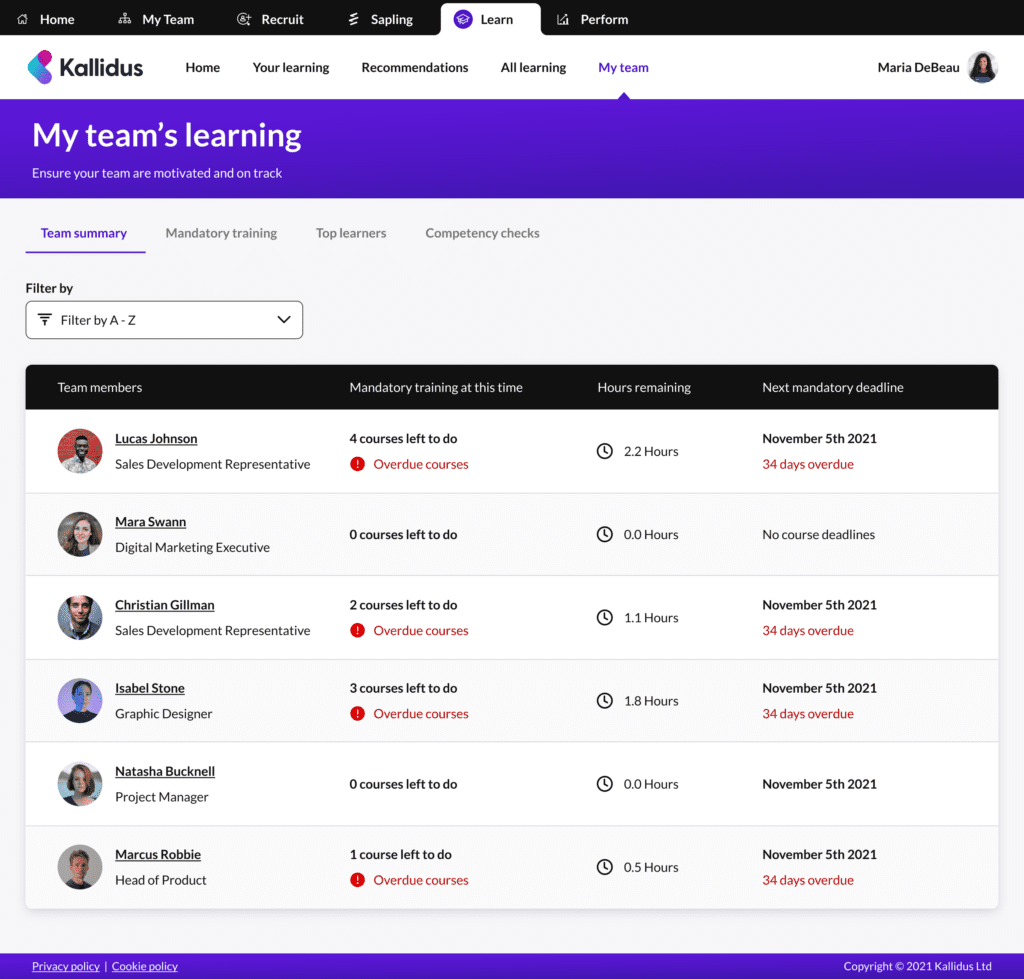 What is Kallidus Learn?
Kallidus Learn is a learning management system tailored for corporate training and development. Acting as a central hub, it serves as a central hub for organising, delivering, and tracking various organisational learning activities.
With 62 reviews (at the time of writing), Kallidus Learn scores 4.3 out of 5 on Capterra. 💡
Pros of Kallidus Learn  ✅
Its users commend its capacity to "simultaneously upload eLearning modules to thousands of colleagues and managers find the 'My Team' function exceptionally user-friendly." Additionally, Kallidus Learn earns a high rating on Capterra for its customer service.
Another user said: "The aesthetic of Kallidus Learn is very simple and easy to use. However, it is engaging for the user. Very minimal user training is needed to use the system because it is easy to use. From an administrative side, it is easy to understand how to set up training, and the training provided by Kallidus is really good ."
Cons of Kallidus Learn ❌
Some customers have noted the inflexibility of the system, with one user commenting: "It is inflexibility at times – for example, we would have so many improvement ideas to make it easier for the end user, but you can put your suggestions forward and very little happens, or it takes a long time to see any changes."
One user noted: "Creating a new course is time-consuming: – Having to create first the parent course, then having to create a lesson, then finally creating an event in order to publish the course to users."
How much is Kallidus Learn?💰
Finding information about pricing on the Kallidus Learn website proved challenging. It seems that you need to inquire to find out more.
Source: https://www.capterra.co.uk/software/133015/kallidus-lms
4. Learning Pool
What is Learning Pool?
The Learning Pool platform aims to provide personalised and purposeful workplace learning at scale through data. The platform applies insights into who a learner is, what they know, and what they need to do in real-time.
With only two reviews (at the time of writing), Learning Pool scores 4.5 out of 5 on Capterra. 💡
Pros of Learning Pool✅
Users of Learning Pool are impressed with their customer service, with one commenting: "Customer service is second to none, the team are fantastic".
Another stated: "The platform has so much to offer, and I'm still learning after years of working on the system. There is a vast catalogue of online learning, and it's easy to use. The information is presented clearly and precisely, making it user-friendly for users of all abilities."
Cons of Learning Pool ❌
The system running slow appears to be a recurring criticism of Learning Pool, with two reviewers noting: "Sometimes the speed of the platform lets it down."
and "The system can run slow as the reports/data gets larger, we have noticed this across the organisation despite different Wi-Fi connections/speeds. There is a slight duplication on the system, which can be confusing. For example, there will be multiple options to complete a task."
How much is Learning Pool? 💰
Learning Pool has no pricing information on their website but has a section for interested parties to request a proposal.
Source: https://www.capterra.co.uk/software/197291/learning-pool-platform
5. Fuse Universal
What is Fuse Universal?
Fuse is a learning and knowledge platform designed for enterprises, aiming to extract tacit knowledge from the minds of your experts and integrate it into the workflow.
With 14 reviews (at the time of writing), Fuse Universal scores 4.1 out of 5 on Capterra. 💡
Pros of Fuse Universal ✅
One user of Fuse Universal praises its ability to: "House both our learning and communication in one platform".
Another customer agreed, "What we love about Fuse is that it has the ability to bring together Learning, Policy, and Communications into one central location where our workforce". Others enjoy that: "The platform is highly customisable, according to your business needs".
Cons of Fuse Universal ❌
One user states: "The downside to so much customisability is that you need to have at least basic HTML/CSS skills to really get it looking how you want it to, and it can take a fair chunk of time to get everything looking and working how you'd like it to if you're not confident in your visual design and coding skills.:.
Another said the system can be somewhat buggy, with one downside being: "The ability to resolve bugs quickly. Much improvement has been made in this area, but there is still work to do here."
How much is Fuse Universal? 💰
We couldn't find any pricing information for Fuse Universal on their website. Therefore, we recommend reaching out to them directly to find out more. 
Source: https://www.capterra.co.uk/reviews/154670/fuse-universal
6. LearnUpon
What is LearnUpon?
LearnUpon is a cloud-hosted online learning management system designed to empower organisations in creating, delivering, and tracking online training and eLearning initiatives.
With 86 reviews (at the time of writing), LearnUpon scores 4.8 out of 5 on Capterra.💡
Pros of LearnUpon ✅
Learn upon ranks highly for their customer service, with one user stating: "The best part of this software is the customer service. I have used several LMS products in my career, and while LearnUpon is very user-friendly and has many helpful options, the learning curve for implementation and use was made very easy with the customer support team".
Some users also highlight the ease of getting started on the LearnUpon platform, noting, "It's straightforward, and we were operational in less than three weeks." Others express, "I found the LMS to be highly user-friendly, and whenever I faced an issue or difficulty, LearnUpon support was there to save the day and offer a solution."
Cons of LearnUpon ❌
As can be the case with any software, a few features in the system are less refined. A reviewer pointed out, "The least enjoyable aspect of this software was the limited ability to change default settings."
Another user said: "The platform UI is not customisable beyond branding and colours, and some additional settings that can be toggled on and off (like gamification, for example), so if you're looking for a platform that is highly customisable, this probably isn't a good fit for you".
How much is LearnUpon?💰
There are a number of packages available; however, you need to contact Learn Upon directly to find out the exact costs of using the platform.
Source: https://www.capterra.co.uk/reviews/130044/learnupon
7. Docebo

What is Docebo?
Docebo's LMS Suite is designed specifically for enterprise and corporate clients, aiming to boost the effectiveness of onboarding, development, enablement, and customer education. It covers everything from content creation and management to delivery and assessing business impact.
With 161 reviews (at the time of writing), Docebo scores 4.3 out of 5 on Capterra. 💡
Pros of Docebo ✅
Docebo earns praise for its user-friendly interface; as one customer expresses, "Launching the product was a breeze and pretty straightforward. Creating and managing rulesets within the system is also a piece of cake."
Another user commends the convenience of consolidating everything in a single location: "We aimed to centralise all our learning materials—documents, videos, e-learning—and this LMS made it easy for us to achieve that."
Cons of Docebo ❌
Some users note that the consistency of technological innovation with Docebo can be unconsidered.
According to one review, "While they strive for innovative and engaging features, there are instances where they rush to release them, and it's not quite ready, or they move on from older functionality that still needs optimisation."
In terms of Docebo's customer support function, some users find it to be hit-and-miss.  One user mentions, "Our staff invested considerable time opening tech support tickets for these issues, attempting to get them 'elevated' for proper attention. Although most issues were relatively minor, their cumulative effect significantly impacted our team's momentum."
How much is Docebo?💰
Docebo's pricing isn't readily available on its website, so it is recommended to reach out and inquire about the costs' details. 
Source: https://www.capterra.co.uk/software/127213/docebo
Which LMS should YOU choose?
Now that you've learned a little bit more about the alternatives to the Thrive LMS, your attention may have turned to your next steps.🤔
But first, let's consider three essential factors.
1. Your budget 👛
Before embarking on the quest for your ideal LMS, start by getting clear on your financial resources. How much can you allocate monthly, quarterly, or annually?
2. Which features are non-negotiable for your organisation? 📱
Time to make a feature wishlist! Jot down everything you'd love in your ideal tool, then categorise them into "must-haves" and "nice-to-haves" to pinpoint your priorities.
3. What's the schedule looking like? 🗓️
Keep in mind that some tools might need more time for setup and training.  Factor in the time required for implementation and the learning curve. We recommend leveraging the insights we've covered in this article to gauge how each company stacks up in terms of onboarding support. 🚀✨
Did you know that thirst can help you prioritise learning with your organisation quickly, affordably and efficiently? 🏅
Employees can learn faster and more intelligently, all thanks to the ability to easily access knowledge through insights, resources and company-wide expertise through a dedicated portal.
Moreover, thirst can help you pinpoint knowledge gaps across individuals and teams, making your team more considered and accurate in their output.
Over 100 L&D teams trust thirst to support knowledge sharing within their organisation.
Want to try it for yourself?
Get a free 1:1 demo of the thirst platform now.
Try thirst today to enjoy game-changing learning and unlimited possibilities.
For more e-learning insights, resources and information, read the thirst blog…
LXP vs LMS: What's the Difference? (2023 Guide | How to choose the right AI-Powered LMS for Your Organisation | The 7 Best Eloomi Alternatives for 2023