Finding the right learning platform is essential in today's rapidly evolving world, whereby continuous learning is critical to both personal and professional growth .🚀
Here at thirst, we understand the importance of selecting an LXP that aligns with your goals and, crucially, actually makes a positive difference to your organisation.
This guide will explore the pros and cons of the most popular LXPs available, empowering you to make an informed decision and embark on an exciting learning journey.
If you've been doing your research into the best LXPs, no doubt you have stumbled across HowNow.
What is HowNow?
HowNow is a digital learning platform offering comprehensive online learning and a knowledge-sharing solution. It is also a hub where organisations can create, curate, and deliver learning content to their employees or learners.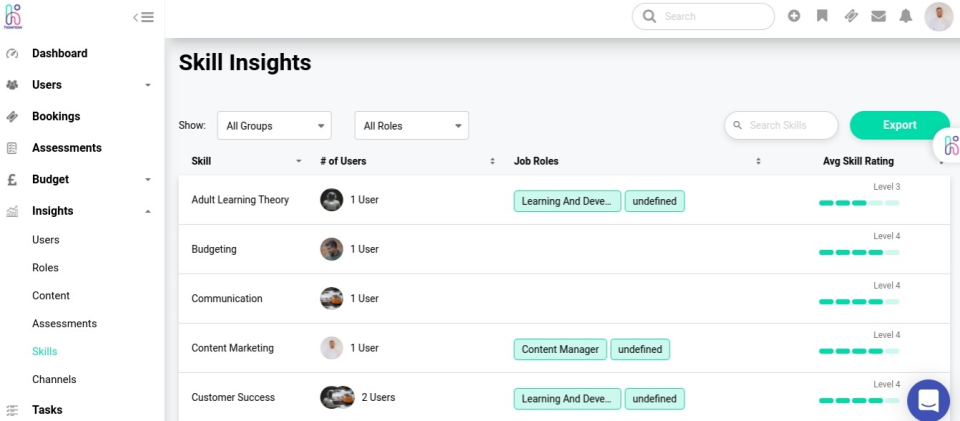 How much is HowNow?
Various pricing packages are available to choose from, and you need a minimum of 100 users, but pricing for the standard package is £72 per user per year, and there will be an onboarding fee.
For a quick comparison, the Lite package is £38 per user per year, and the Plus package is £78 per user per year. Again there is a minimum of 100 users and an onboarding fee.
Pros of HowNow  ✅
According to Capterra, many users praise HowNow's customer service, with one reviewer noting it is "Fun, friendly, supportive and super efficient"!

Others say they appreciate that "HowNow is continuously improving its platform and is happy to consider and sometimes act on your requests." Another positive HowNow customers report is regarding staff onboarding "The system has helped our senior-level team members to streamline how we onboard our fresh talent."
Cons of HowNow ❌
Some customers report that HowNow doesn't reflect the hour's progress or completion or how many hours are spent learning. While others say, "Initially using the system is difficult as it's almost a new language to learn, such as nuggets etc."
Source: https://www.capterra.co.uk/reviews/173341/hownow
The 7 Best HowNow LXP Alternatives
Now that you've read over some of the pros and cons of HowNow, one of the market leaders, we'll take a look at some of the alternative LXPs available,
Including…
eloomi
Degreed
Learn Amp
Kallidus
Looop
Learn Upon
1. thirst 
Of course, we are starting with what we believe is the best value and intuitive LXP around. 🙋‍♂️ 
Let us tell you a bit about us…
Why should you choose thirst as your LXP in 2023?
thirst is an innovative learning platform infused with AI technology designed to empower L&D professionals to…
Foster a culture of accelerated learning ✅
Enhance talent acquisition ✅
Promote leadership development ✅
Facilitate internal mobility ✅
What are the pros of using the thirst LXP?
Here are 5 reasons to choose thirst…
1. Faster Tacit Knowledge Sharing with thirst
When it comes to faster tacit knowledge sharing, thirst enables teams to collaborate and learn from each other effortlessly.
Our platform allows users to access knowledge quickly and efficiently onboard new staff. 🧑🏻‍🤝‍
With thirst, knowledge is easily discoverable and accessible, saving precious time that would otherwise be spent searching for information.⌚
Additionally, thirst promotes real-time collaboration through its interactive tools, facilitating immediate knowledge exchange and fostering a culture of continuous learning. ♻️
2. thirst is a Skills Engine
Unleash the full potential of your team by leveraging data-backed insights and personalised learning journeys. 📈
With our platform, you can transform every teammate into a top performer. Identify and address knowledge and skills gaps with precision at an individual and team level, empowering your employees to enhance their expertise continuously. 🌟
We enable your people to refine their craft through tailored learning paths and targeted recommendations, ensuring continuous growth and improvement.
With our data-driven approach, your team can reach new heights of performance and achieve remarkable results. 📊
3. Personalised learning with thirst
Equip your teammates with a competitive edge through a personalised learning hub designed to deliver high-value content recommendations and in-context actions that accelerate their growth. 🌱
Our platform ensures every individual receives tailored learning experiences, providing them with the necessary knowledge and tools.
By delivering targeted recommendations based on their specific needs, our platform enables teammates to learn and develop at an accelerated pace. 🏃‍♀️
Focusing on delivering relevant content precisely when needed, we also empower your team members to maximise their potential and achieve faster growth. 📈
4. Social Learning
New behaviours can be learned by observing and copying others. The only true way to learn new things is to place someone in a social environment, and whether by watching others or being told what to do, they acquire new skills. 🧠
Discover: What is social learning theory, and why is it important?
Our AI-powered learning platform empowers L&D professionals to accelerate their learning culture, talent acquisition, leadership and development, and internal mobility.
5. Deep Data Insights
thirst offers powerful data dashboards that bring all of your important metrics into one place. By adding visual widgets for team members, skills, compliance, statuses, docs, and more, you can get a complete picture of your learning culture at a glance. 🔎
How much is thirst?
thirst is incredibly good value at £6.00 total per month for 1 user. 💪
And here are some of the exciting features included…
For All Users:
Personalised Content Recommendations
Share, Like and Comment on Content
Get Social – Follow and be Followed
Upload any File Type
Personalised Dashboard
Integrated Content Providers
Intuitive Platform
Accessible on any Device
For Organisation Admins:
Upload and Host Internal Docs
Assign Content Mandatory
Training Track Learner Progress
MI and Reporting
Insights and Trends
User Management
Customisable User Interface
2. eloomi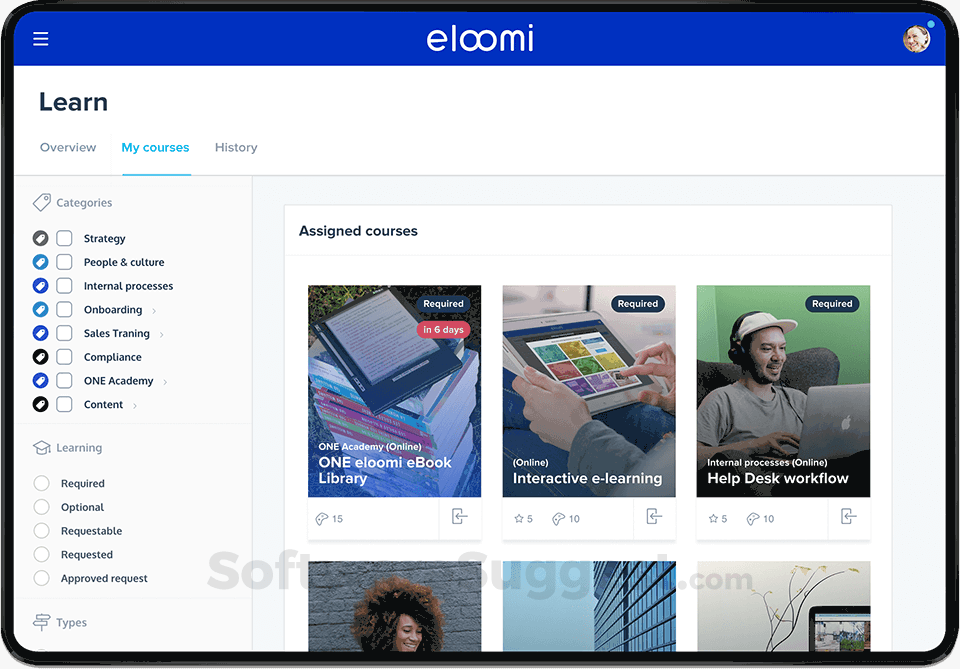 eloomi is a comprehensive learning and development platform that, in its own words, 'aims to drive growth and empower organisations. According to data collected by Capterra eloomi is rated highly for its customer service and ease of use.
Pros of eloomi  ✅
People seem to enjoy eloomi's interface, seamless UX, and reasonably open API, which can hook into various software platforms.
Cons of eloomi ❌
Several reviewers noted that while eloomi offers lots of features, some users have found that some of these features aren't fully ready and working optimally.
How much is eloomi?
eloomi's website features a contact form for you to get in touch to learn more about their pricing structure. No pricing information is available on the website. 🤷
Review Source
https://www.capterra.co.uk/reviews/150609/eloomi
3. Degreed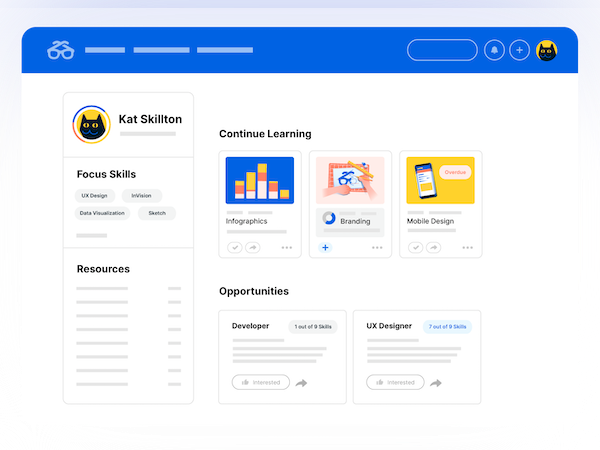 Degreed is an upskilling platform that integrates all aspects of learning, talent development, and internal mobility.
Pros of Degreed ✅
Users report that it is easy to use thanks to a "Great UI" It also makes it easy to create learning paths from both external and internal content and assign them to users/groups.
One reviewer stated: "I like how Degreed curates current and relevant content from both the web as well as proprietary content that it is linked to. I love the ability to save articles, videos, etc., for later and go back to them when I can…and have them all in one place. " 
Cons of Degreed ❌
Some Degreed users state that a downside of the platform is the lack of a fully developed native app and that the reporting capabilities are lacking.
One user commented: "I would like the same experience on my mobile device as I have on my laptop. I would also like the ability to pull/download and create dynamic reports as well as allow others to do so w/o full admin access."
How much is Degreed?
Degreed is free for individual users, and you can get in touch with them regarding using the platform for your company.
Review source: https://www.capterra.co.uk/reviews/207520/degreed
4. Learn Amp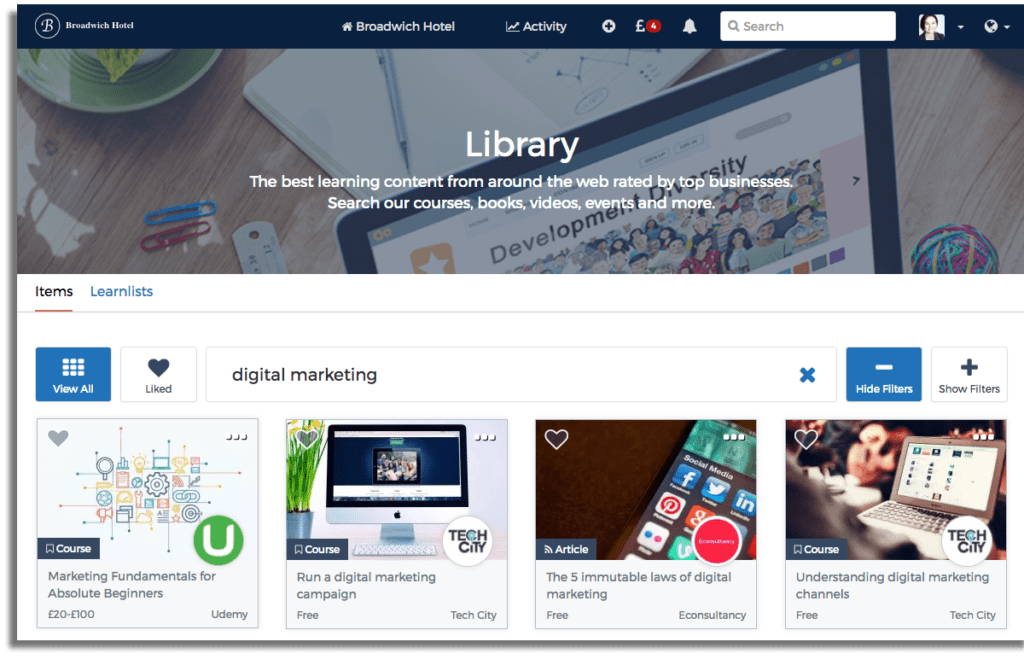 Learn Amp is a learning and employee development platform that enables organisations to create, deliver, and track their learning programs effectively. It offers a wide range of features and tools to enhance the learning experience for individuals and teams.
Pros of Learn Amp ✅
According to Capterra, Learn Amp scores highly for 'Ease of Use, 'Customer Service', 'Features' and 'Value for money'. Some users say how easy it is to use, while others praise how you need minimal training to operate and navigate around the platform.
Cons of Learn Amp ❌
Some users note that Learn Amp could improve on its performance tools, and others state that "It's a smaller company, so they don't have as many features as some of their competitors".
Review Source:
https://www.capterra.co.uk/reviews/171968/learn-amp
How much is Learn Amp?
Learn Amp's website features different packages that you can inquire about for a price upon enquiry. 🤷
5. Kallidus Learn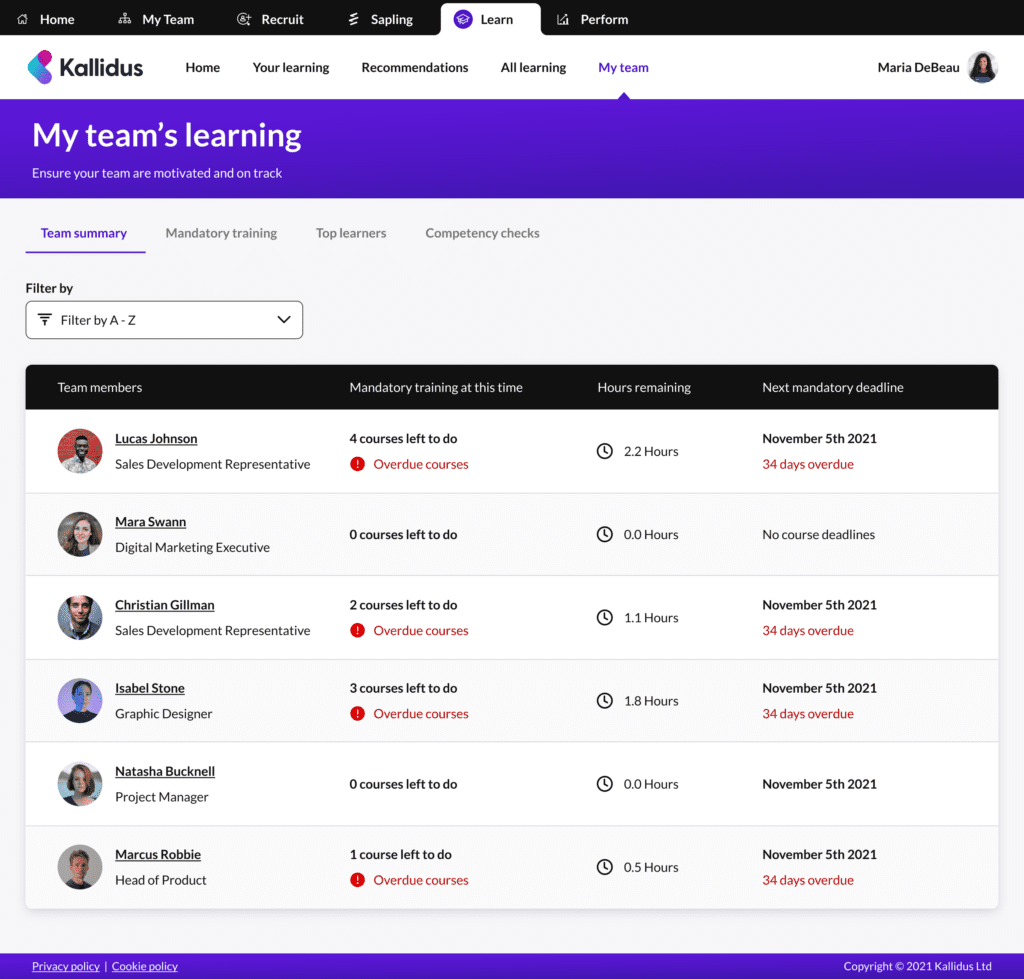 Kallidus Learn is a learning management system that facilitates corporate training and development. It serves as a central hub for organising, delivering, and tracking various organisational learning activities.
Pros of Kallidus Learn ✅
Users praise its ability to "upload eLearning modules to thousands of colleagues at one time. The My Team function is very user-friendly for managers". Kallidus Learn also scores best on Capterra for its customer service.
Cons of Kallidus Learn ❌
Some users say it can be "a little tricky in the back end to remember all the steps needed to upload content/events." and that the system can be 'somewhat inflexible at times'.
How much is Kallidus Learn?
It was hard to find anything about pricing on the Kallidus Learn website. We imagine you have to enquire. 🤷
Review Source:
https://www.capterra.co.uk/reviews/133015/kallidus-lms
6. Looop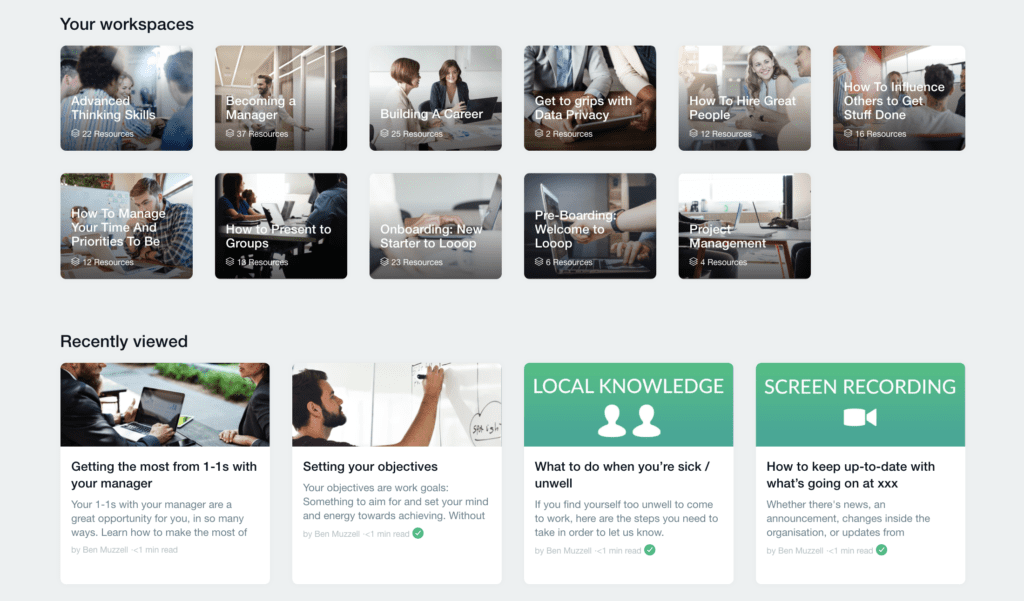 Looop is a learning platform designed to revolutionise employee training and development. Looop focuses on delivering "learning in the flow of work," providing employees with just-in-time and on-demand training materials when needed.
Pros of Looop ✅
Looops users praise its ease of use, and the search functionality in particular, which "is incredibly fast, and their use of marketing savvy and the campaign tool is remarkable ".
Cons of Looop ❌
Some reviewers say, "The events functionality could be improved to be just as slick as the rest of the platform, for example, being able to send invitations straight to Slack or Google Calendar. Also, the accessibility options could be improved."
How much is Looop?
There are multiple packages available for businesses of all sizes. You have to contact Looop to find out how much they cost. 🤷
Review Source:
https://www.capterra.co.uk/reviews/140975/looop
7. LearnUpon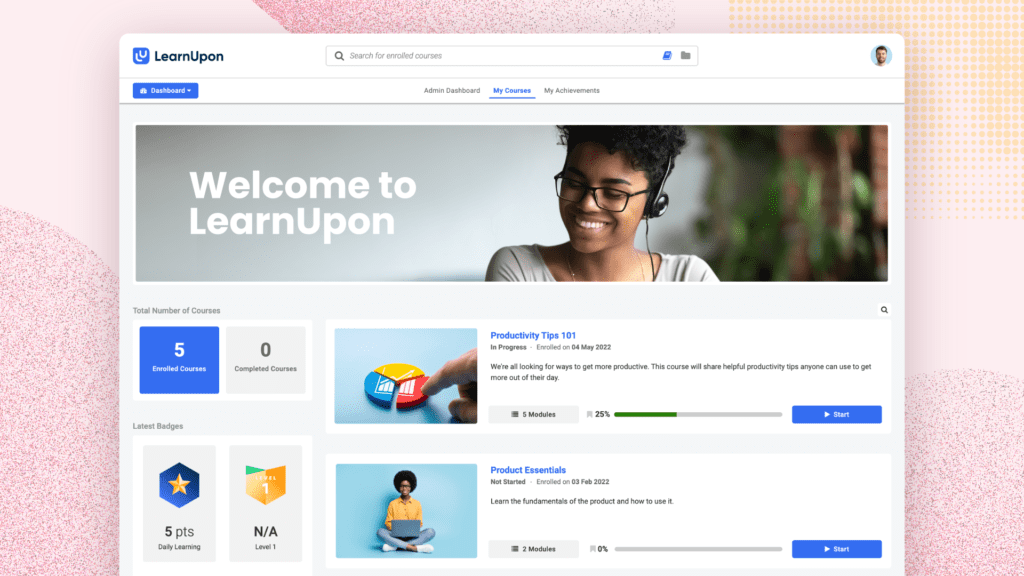 LearnUpon is a cloud-based learning management system (LMS) that enables organisations to create, deliver, and track online training and eLearning programs.
It provides a comprehensive platform for managing and organising learning content, whether it's in the form of courses, videos, documents, or assessments.
Pros of LearnUpon ✅
Some users note that the LearnUpon platform is "very easy to get started on; we had a quick turnaround to make from our previous vendor platform and were able to get up and running in less than three weeks".

While others say, "I found the LMS to be very user friendly and very importantly whenever I had an issue of a problem doing something, or as was more likely the case, whenever I screwed something up, the LearnUpon support was there to save the day and provide a solution."
Cons of LearnUpon ❌
One reviewer noted: "The least likeable part about this software was perhaps the limited ability to change default settings". However, it appears that LearnUpon has taken this into account and is now working on some updates to the software that better align with our needs"

Another said, "Not necessarily a drawback for us, but the platform UI is not customisable beyond branding and colours, and some additional settings can be toggled on and off (like gamification, for example), so if you're looking for a platform that is highly customisable, this probably isn't a good fit for you."
Review Source: https://www.capterra.co.uk/reviews/130044/learnupon
How Much is LearnUpon?
There are a number of packages available; however, you need to contact LearnUpon directly to find out the exact costs. 🤷
Which LXP should you choose?
Now that you've been able to read through some of the pros and cons of each platform.  
Your attention may have turned to which platform to choose.
A good place to start is to reflect on each point and then ask yourself…
What is my budget?
Budget often serves as a limiting factor for most teams. Starting your search by creating a shortlist based on your budget is an effective way to narrow down options early on.
What features are essential?
Compile a comprehensive list of potential features you desire in a prospective tool, and then categorise them as "need to have" or "nice to have" to prioritise your requirements.
What is my timeline?
Keep in mind that certain tools may require more time for initial setup and training. Consider the duration required for implementing and familiarising yourself with any potential new tool.
An LXP like thirst can help you prioritise learning with your organisation affordably and efficiently🏅
Here's how…
Employees can learn faster and more intelligently, all thanks to the ability to easily access knowledge through insights, resources and company-wide expertise through a dedicated portal.
Moreover, thirst can help you pinpoint knowledge gaps across individuals and teams, making your team more considered and accurate in their output.
But don't just take our word for it!
Over 100 L&D teams trust thirst to support knowledge sharing within their organisation.
Want to try it for yourself?
Get a free 1:1 demo of the thirst platform now.
Try thirst today to enjoy game-changing learning and unlimited possibilities.
For more e-learning insights, resources and information, discover the thirst blog.
 You may also enjoy our latest blogs.
The 4 phases of a successful employee onboarding process | Product Knowledge: What it is & How to Develop it | Skills vs Competencies: What Are the Key Differences?